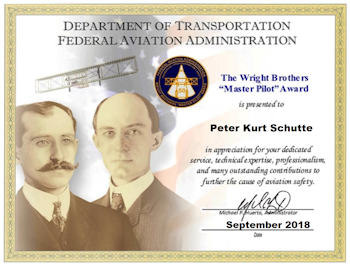 Congratulations to Pete Schutte on earning the FAA Wright Brothers Master Pilot Award!
For those who aren't familiar, this is awarded to pilots with 50 years of experience after their first solo who haven't had an at-fault accident, a violation or incident. These pilot must also receive three letters of recommendation from pilots who have known them for some time. There are currently just over 5000 distinguished recipients and Pete is now part of that "Roll Of Honor".
A retired Airline Captain, Pete first soloed on January 7, 1968. On top of his duties as an LESC Tow Pilot, he also holds several Pilot Certificates and Authorizations, including Commercial Glider.
Congratulations Pete, you've earned it and it's well deserved!